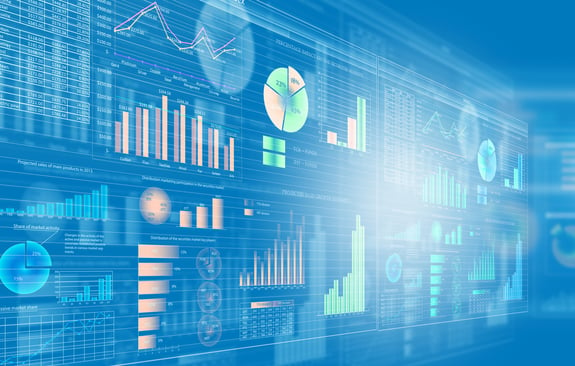 QLIK SENSE
Unlock the power of data-driven decision making
Qlik Sense sets the benchmark for a new generation of analytics. Empower everyone in your organization to make better decisions daily.
01

Visualizations & Dashboards

02

Powerful Augmented Analytics

03

Active Analytics

04

Hybrid Cloud Platform
ENHANCED INTERACTIVITY. BROADER CONTEXT. BLAZING SPEED. UNMATCHED BY ANY OTHER.
Empower all your users with interactive and intuitive visualizations. Qlik Sense provides a wide range of interactive and visually appealing chart types to help users explore and analyze their data.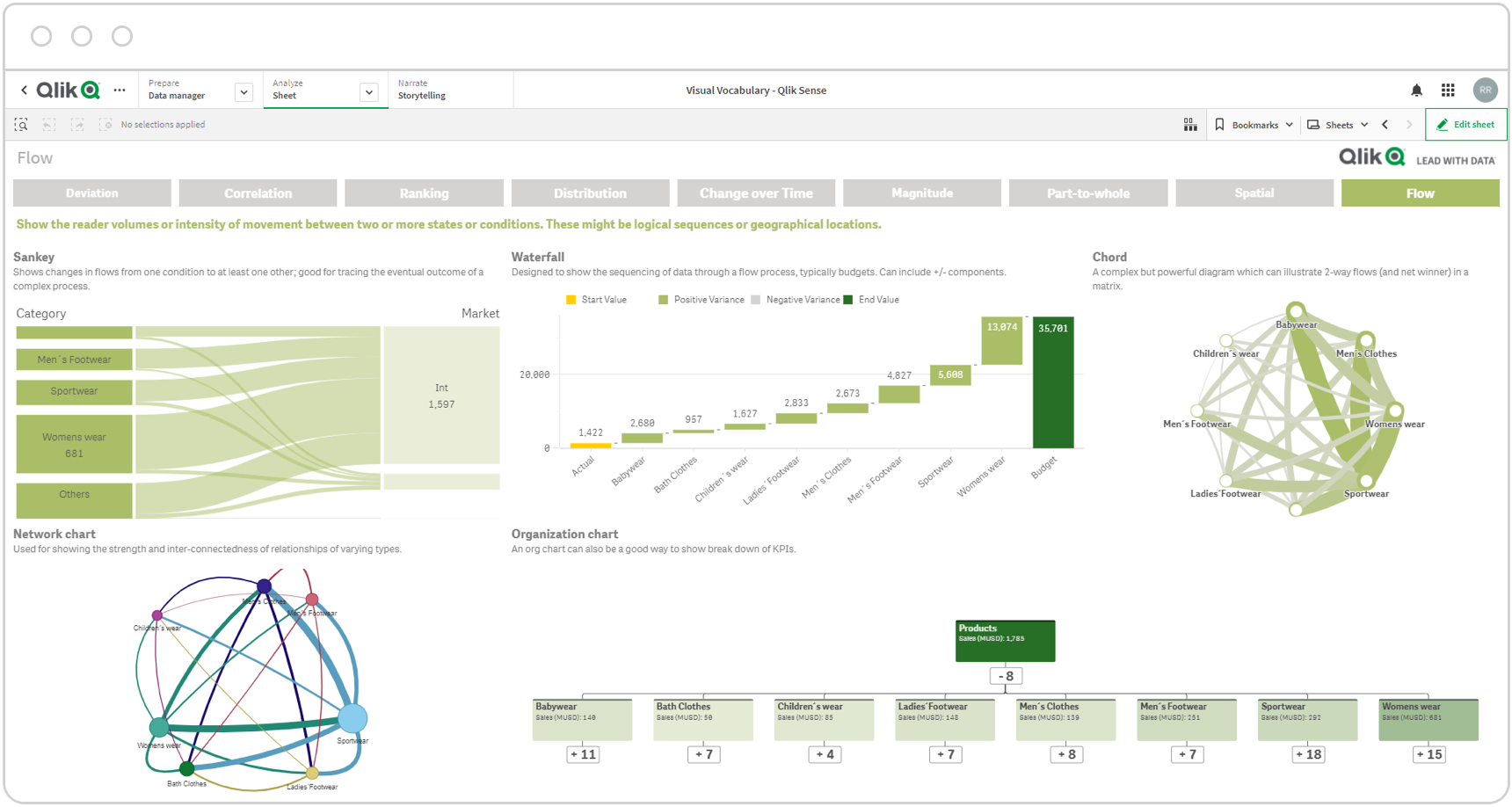 EMPOWER DATA LITERACY THROUGH AUGMENTED ANALYTICS
Augmented Intelligence is a set of features in Qlik Sense that leverages artificial intelligence and machine learning algorithms to help users make better decisions by providing relevant insights, recommendations, and predictions. It aims to augment human intelligence by automating certain tasks, such as data preparation, analysis, and visualization, and providing users with intelligent recommendations based on their data and the relationships within it.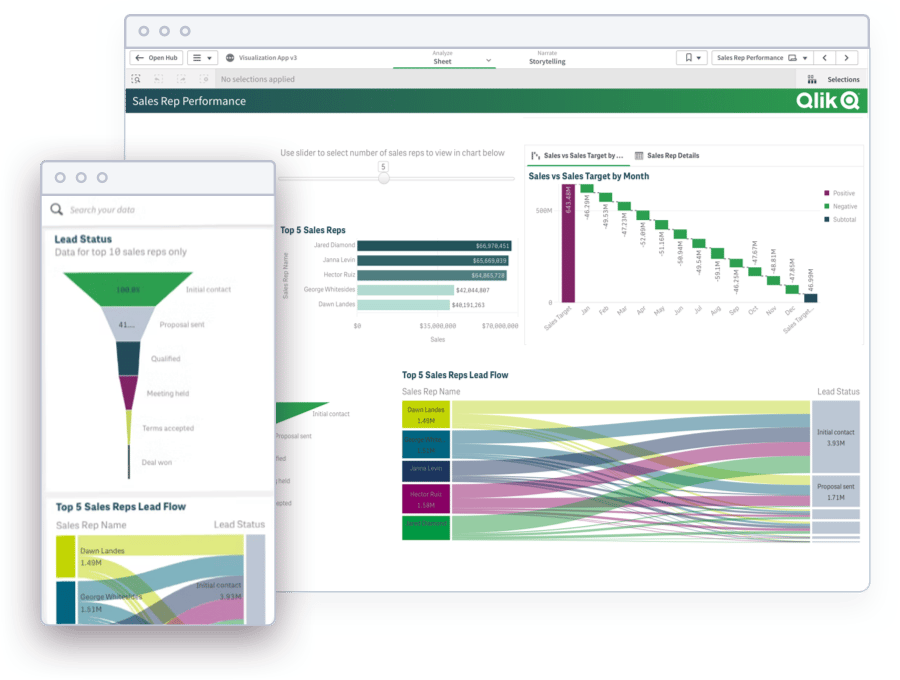 TRANSFORM PASSIVE INTO ACTIVE ANALYTICS
With Qlik Active Analytics, users can quickly access and analyze data from multiple sources, identify trends and patterns, and make informed decisions based on real-time data. The feature is designed to empower users to be more self-sufficient and make decisions faster by providing them with real-time insights and recommendations.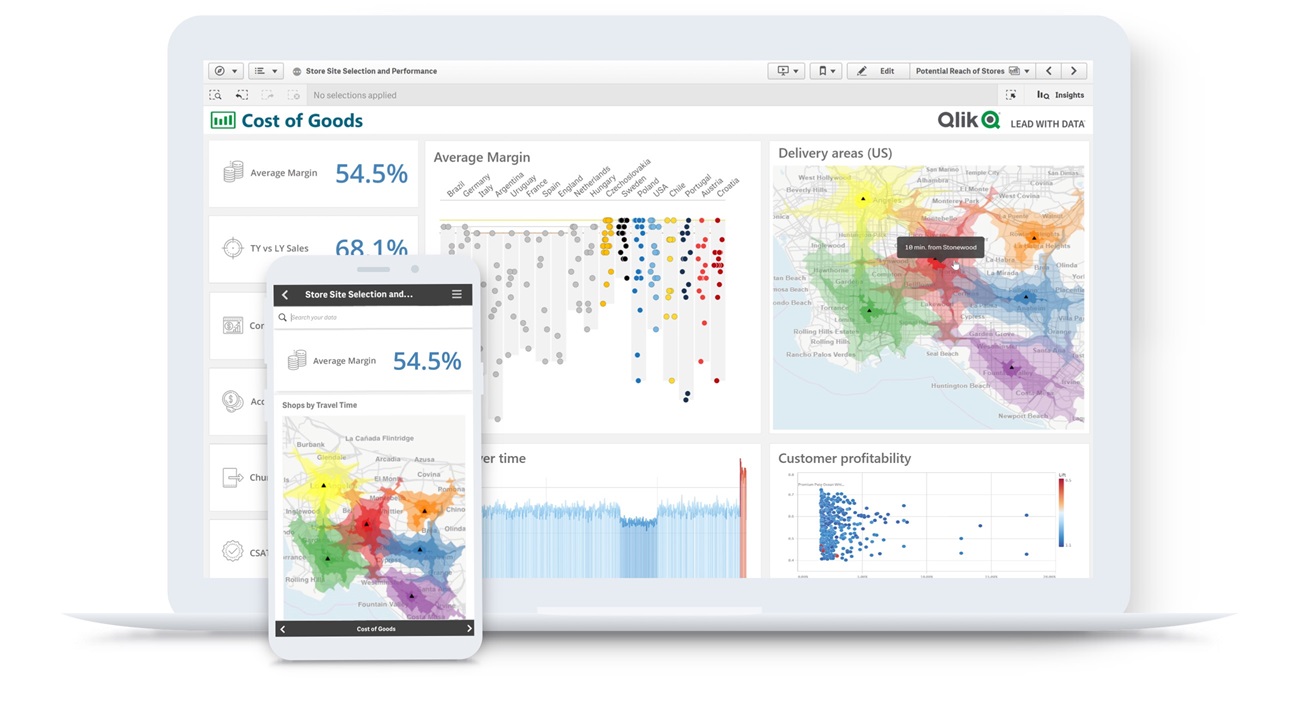 HIGH PERFORMNCE SAAS AND HYBRID CLOUD PLATFORM
With Qlik Sense SaaS, customers can access Qlik Sense through the internet and use it without having to install any software or manage any infrastructure. Instead, the platform and its data are hosted, maintained, and updated by Qlik.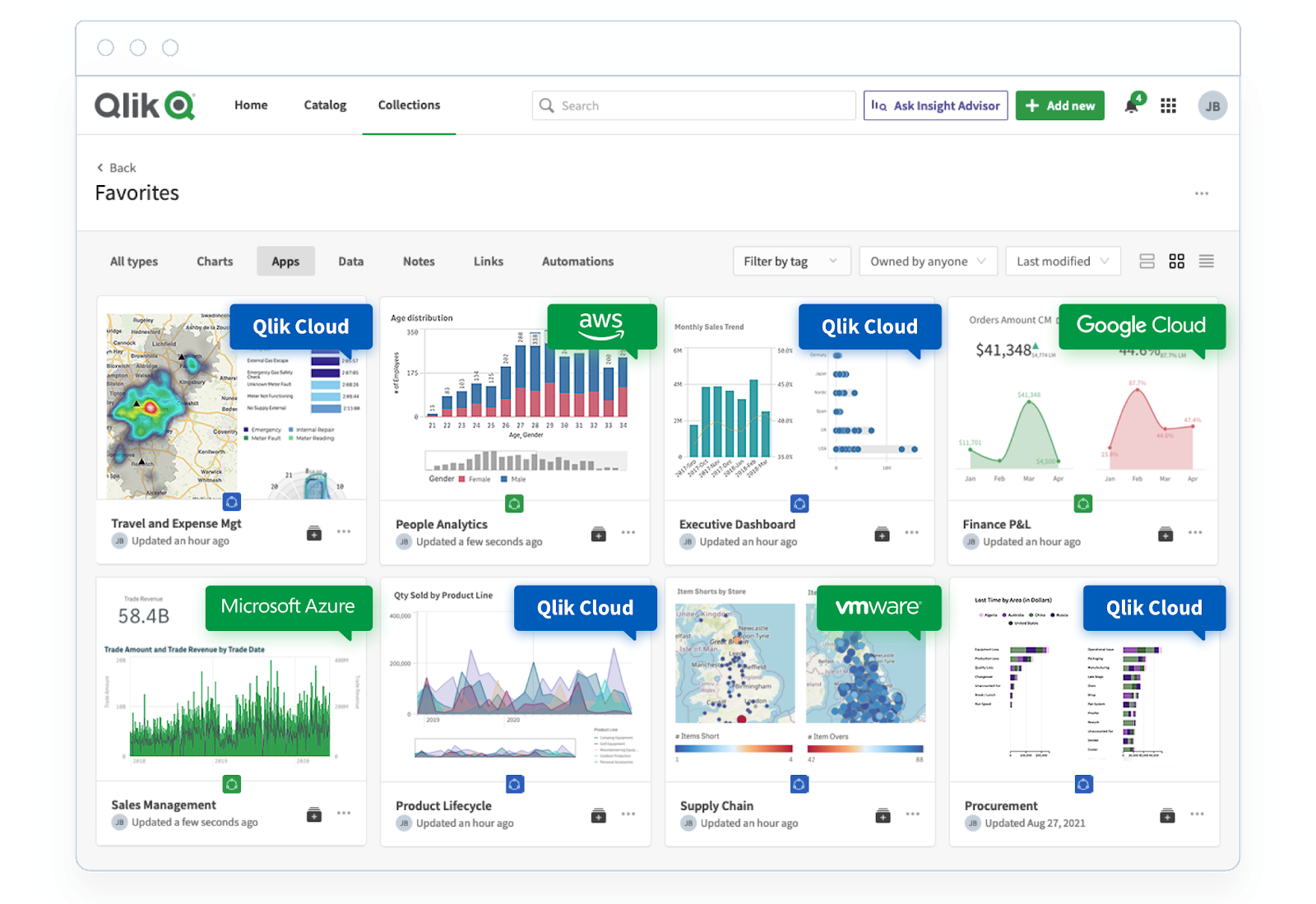 QLIK SENSE BENEFITS
Explore without boundaries
Qlik Sense indexes and understands every relationship in your data so you can explore freely in any direction. It's like x-ray vision, revealing insights you can't see with query-based BI tools.
Create Analytics Faster
Easily combine and load data, create smart visualizations, and drag and drop to build rich analytics apps accelerated by suggestions and automation from AI.
LET AI AMPLIFY YOUR MIND
Augmented intelligence enhances human intuition throughout Qlik Sense with suggested insights, automated processes, and natural language interaction.
SHARE AND GO MOBILE
Stay productive online or offline with fully interactive mobile analytics. Make discoveries, easily collaborate, and take action with data — anywhere, anytime.
BUILD, EXTEND, EMBED
Develop any analytics you can imagine with a complete set of open APIs and bring them into any app, project, or process with powerful embedded analytics support.
SCALE ACROSS THE CLOUD
Easily combine SaaS, hybrid multi-cloud, and on-premise deployment options with the industry's only true multi-cloud architecture. The choice is yours.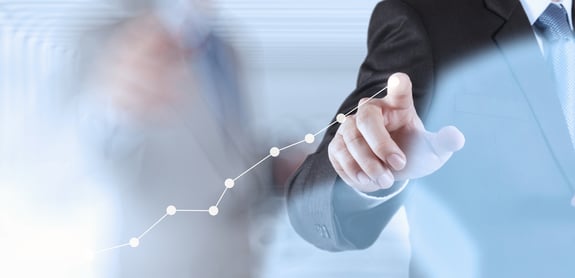 01

Strategy Labs

02

Consulting Services

03

Project Design & Delivery

04

Augmented Staffing

05

Support & Managed Services

06

Learning & Adoption
EXPLORE. IDEATE. VALIDATE.
Our Data Strategy Labs offer an exciting opportunity to explore uncharted territories, as we embark on a journey of building prototypes together. With no predetermined outcome, we embrace the unpredictability and embrace the excitement of pushing boundaries. By establishing strong foundations during these labs, we pave the way for defining subsequent steps towards achieving remarkable success.
THE POWER OF STRATEGIC INSIGHTS.
Our expert consultants are here to guide you every step of the way, from data collection and analysis to implementation of tailored solutions. We offer a comprehensive range of consulting services designed to meet your unique needs. As a leading data analytics company, we specialize in empowering businesses like yours to extract actionable intelligence from their vast data reserves.
THE POWER OF PROJECT BASED COLLABORATION.
Experience the power of project-based collaboration with us! Our seasoned professionals provide tailored solutions, efficient resource allocation, and clear milestones, ensuring transparency and accountability. With lower risk, innovation, and a focus on customer satisfaction, we're your trusted partner for turning your vision into reality. Contact us today for an unparalleled project journey!
UNLEASH EFFICIENCY ...
Bye bye to the limitations of traditional staffing models. Augmented Staffing empowers your team with a flexible workforce that seamlessly integrates into your existing structure. Scale up or down effortlessly, ensuring you have the right talent at the right time to meet your business demands.
DISCOVER OUR COMPREHENSIVE SUPPORT
Our dedicated support team is always just a call or click away. Whether you have a query, need assistance, or require troubleshooting, we're here to provide prompt and effective solutions. We consider ourselves an extension of your team, working together towards your success.
EMPOWER YOUR BUSINESS USERS.
Both our open and tailored courses as our adoption roadmap workshops are delivered by a team of seasoned consultants and trainers, offering a unique advantage - the expertise of professionals actively engaged in day-to-day projects utilising the very technologies they teach.
Any further questions?
We are happy to help you out ...
Unleash the power of Qlik Sense today!